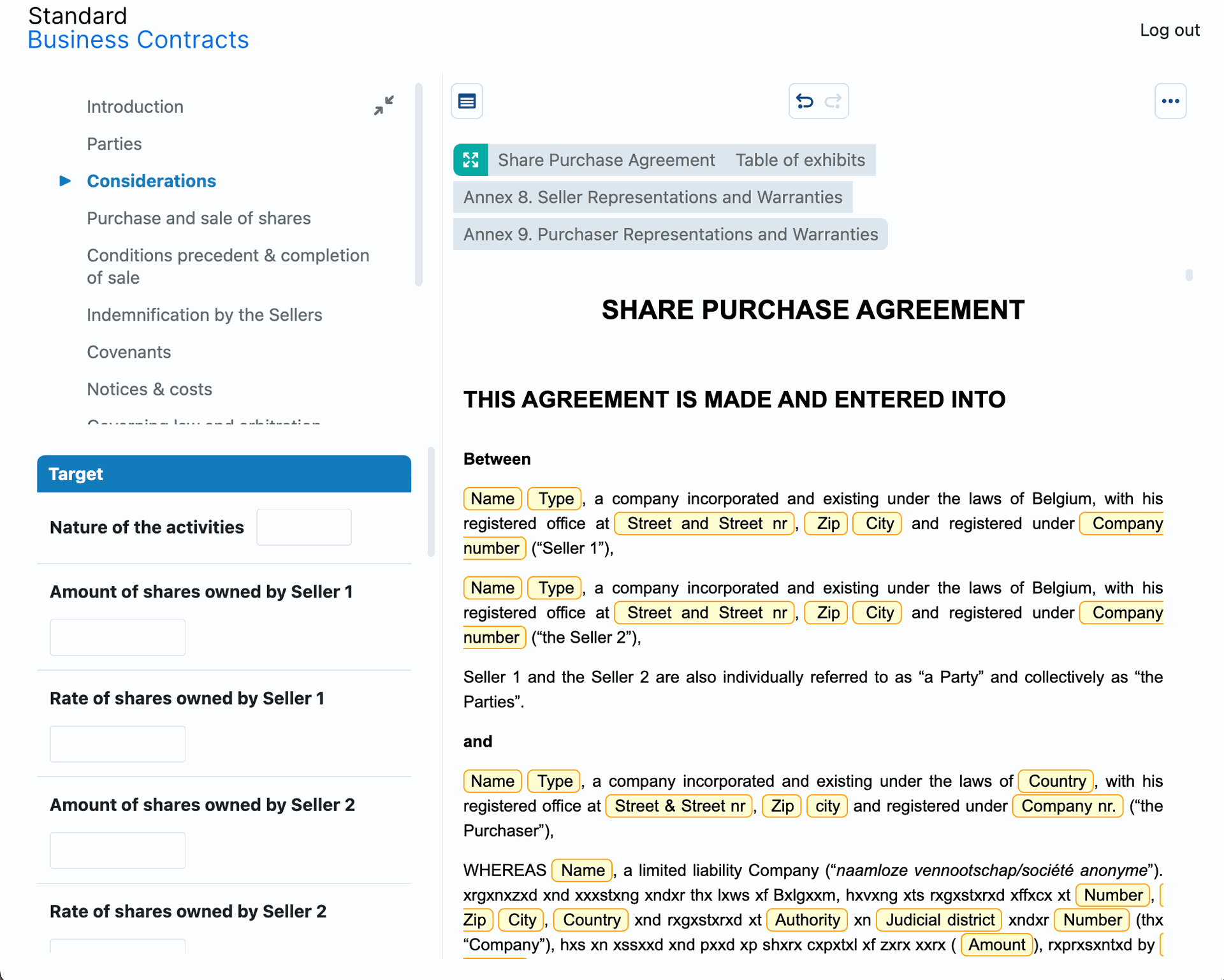 Interactive Model Contracts
The interactive Standard Business Contracts allow you to generate bespoke documents by filling out a simple questionnaire. With the easy Q&A-interface you can draft a contract in minutes.
Using answers to easy questions, changes are introduced to the content of the document. Besides the content, the styling of the document can be changed as well.
Clause Library
In addition to using the book's models to create full documents, you can also interactively browse the clauses used in the book, search using keywords, and immediately insert clauses into your Word-file.
TRY A DEMO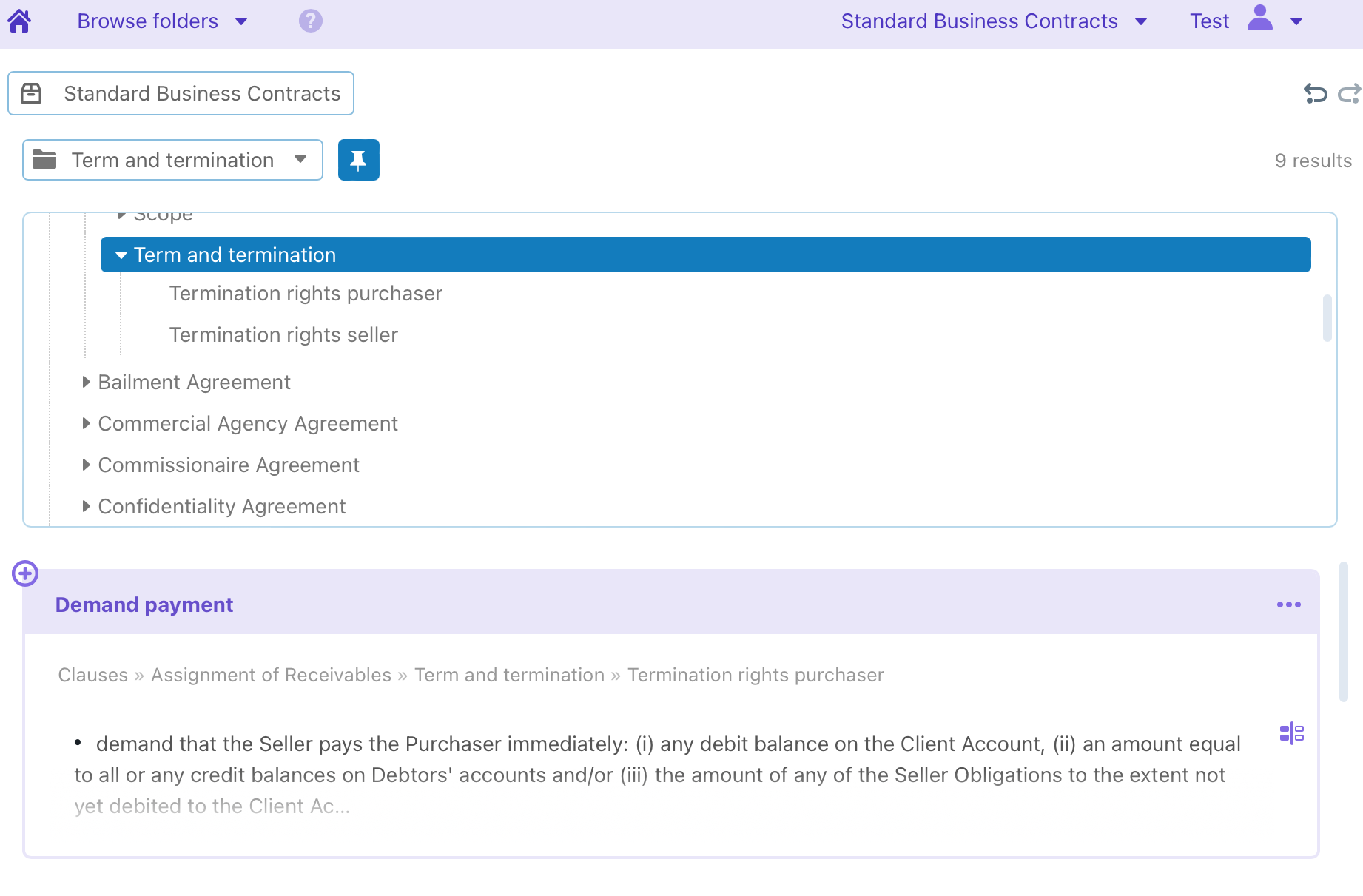 The Book
The Standard Business Contracts reference book was published in 2021 by Dirk Deschrijver, Marc Taeymans and Olivier Vanden Berghe. Thanks to the collaboration with ClauseBase the model contracts are now available as interactive templates.

Contents
The reference book brings together a number of contracts that are governed by Belgian law but drafted in English. Each model is preceded by a short introduction summarizing the most salient provisions of Belgian law relevant to that particular contract.

About the authors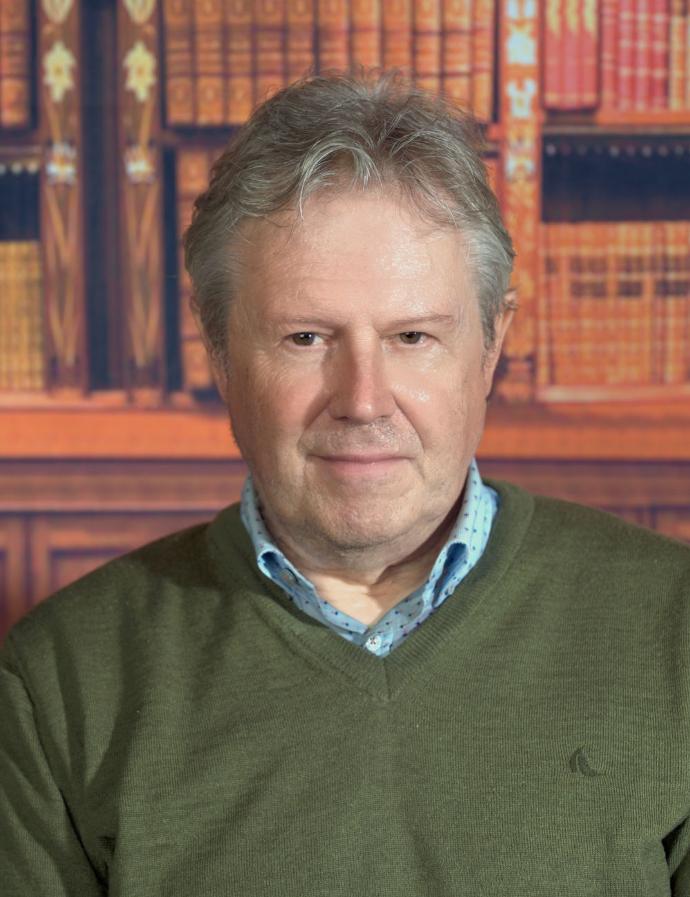 Dirk Deschrijver
Dirk Deschrijver earned his law degree at UIA. The author obtained a special license in tax law and a special license in economic law at VUB.
He is a member of the editorial board of Tijdschrift voor Rechtspersoon en Vennootschap/Revue Pratique des Sociétés, member of the editorial committee of Algemeen Fiscaal Tijdschrift (General Tax Journal), member of the ITAA and member of IFA Belgium. He is the author of various contributions and works in the field of tax law.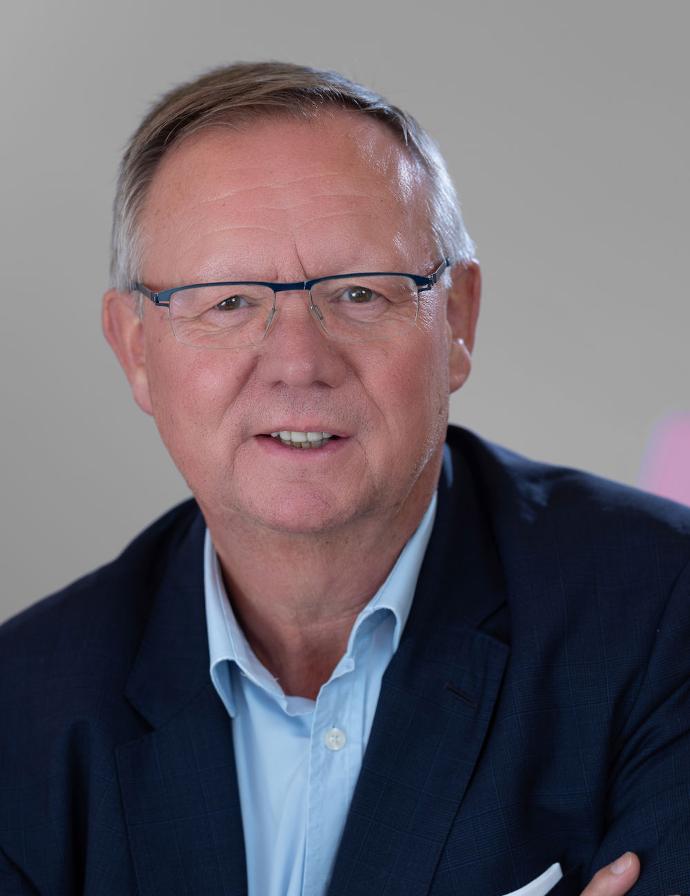 Marc Taeymans
Marc Taeymans (° Mortsel, 1957), honorary company lawyer, has extended legal expertise and background in financial law, contract drawing and negotiations. Marc graduated in Law at KU Leuven and obtained a Master of Laws from the University of Virginia in 1981. He also completed studies in management at INSEAD (Fontainebleau).
He started his career at Linklaters, before joining Generale Bank in 1990 as international legal counsel. He further served in different legal functions at Fortis bank with practice in Corporate Finance, Private Equity and Trust & Corporate Services, both in Brussels and Geneva. Thereafter Marc was head of Litigation at BNP Paribas Fortis for 10 years. He combined his legal practice with teaching at KU Leuven and the School for Public Administration in Gent.
He is appointed assessor judge in the Commercial court in Antwerp since 2009 and is certified as mediator since 2005. Since 2018 he teaches law courses at Thomas More University College in Mechelen. He is co-author of a book on IT-contracts and wrote on different legal subjects. He serves since 1991 on the editorial board of Computerrecht and was Board member of the Belgian Institute of Company Lawyers from 2013 to 2018.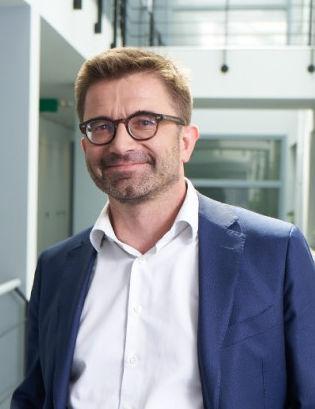 Olivier Vanden Berghe

Olivier Vanden Berghe (° Kortrijk, 1970), attorney-at-law, heads the Commercial Contracts and Litigation Practice of Liedekerke Wolters Waelbroeck Kirkpatrick.
Olivier holds a law degree from the KU Leuven (1993) and an advanced degree in civil law from Paris II University (1994). Olivier has been a member of the Brussels bar since 1995 and joined Liedekerke Wolters Waelbroeck Kirkpatrick in 2001, where he became a Partner in 2008. He is specialised in commercial contracts and litigation and assists companies in a wide range of business-to-business transactions.
His activity focuses on distribution networks and cooperation agreements, energy contracts and industrial construction and engineering activities. Olivier has been a lecturer on commercial litigation at the KU Leuven. He is regularly invited as a speaker and has written various articles on the subject of commercial contracts. He is co-editor in chief of the Revue de Droit Commercial Belge / Tijdschrift voor Belgisch Handelsrecht.